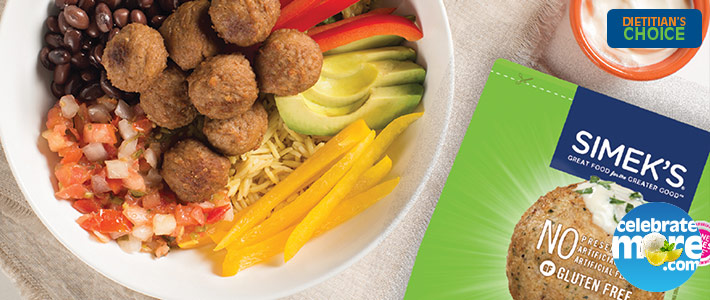 Simek's Fiesta Turkey Meatball Bowl
Ingredients:
1 pkg Turkey Meatballs
1 cup whole grain brown rice
2 cups water
1 teaspoon
Salt
Juice of 1 lime
2-3 tablespoons cilantro, chopped
14.5 oz. can no salt added or reduced sodium black beans, drained
10 oz. can fresh tomatoes, diced
1 avocado
1 red pepper
1 yellow pepper
Lettuce
Directions:
Add the rice, water, salt, lime juice and cilantro to a medium pot. Stir well. Bring to a boil, then cover, reduce heat to low, and simmer for 14 minutes. Set aside and keep covered.
While rice is simmering, thaw and heat Turkey meatballs per package.
Cut peppers, avocado, and lettuce.
Add all ingredients to a large bowl and serve.
*Recipe adapted from Simek's. Find this and many more of their great recipes here!