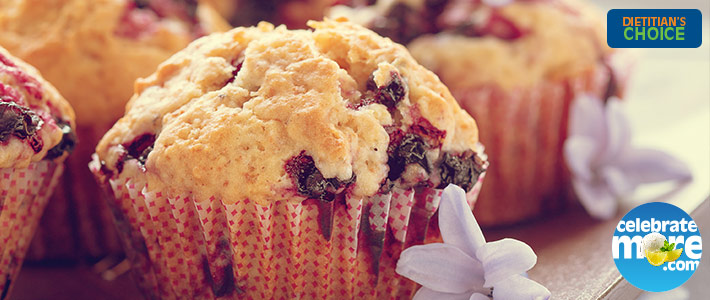 Tri-Berry Muffins
Ingredients:
1½ Cups whole wheat flour
1½ tsp baking powder
1/4 tsp baking soda
1/4 tsp kosher salt
1 tsp ground cinnamon
1/3 Cup granulated sugar
3/4 Cup skim milk
1 egg, lightly beaten
1 stick unsalted butter, melted
1 tsp vanilla extract
1 Cup frozen mixed berries
Directions:
Preheat oven to 375°F. Place liners in muffin tins, if desired.
Whisk together baking powder, baking soda, salt, cinnamon and sugar in large bowl.
In separate bowl, combine milk, eggs, butter and vanilla.
Add wet ingredients to dry, and stir until just combined. Don't over mix. Fold in mixed berries.
Spoon batter into muffin tins. Bake 20-25 minutes, until a cake tester comes out clean and tops are nicely browned.